Yoshinori Shiozawa>Jane Jacobs>Jane's Walk @ Jiyugaoka 2016
日本語の案内はこちら
Jane's Walk @ Jiyugaoka 2016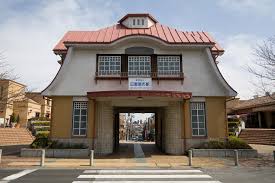 Jane's Walk @ Jiyugaoka 2016
Jane's Walk will be held this year, too. Please, inform me, those who want to participate and help me.

We want you. Please send me e-mail at y[a]shiozawa.net. Please change [a] to @
Program
Date and Time
May 4, 2016 (Greenery Day, a national holiday)
Rendez-vou: 10:30am Start form Den-en Chofu: 11:00am Arrival at Jiyugaoka: 13:00pm
The Meeting Place
Den-en Chofu Station, Toyoko Line
If you go out from the station, you will see a small old station house on your left (See the picture above). You pass through the house and you will find a samll pond. Please wait theore in front the monument commemoratin the foudantion of the Society of Dee-en Chofu.
Clothes
Please come wtih cadual and easy to walk clothes.
Participation Fee
No praticipation fee. Please bring with you about 1,000 Yen for to drink a cafee or tea when we arrived at Jiyugaoka.
Contact and Regisration
Please inform me before May 3.
My name: Y. Shiozawa   e-mail: y[A]shiozawa.net   Please change [A] to @.

When you inform me, do not forget your name and a short introduction of your self.
Planned participants: 1 as of April 1, 2016.
Tatal participants will not exceed 10 people.
---
ホームへ戻る
ジェイン・シェイコブズ一覧